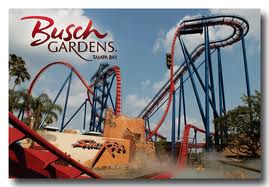 The Busch Gardens are located in Tampa Florida and it is a great place to have fun. With some of the best rides anywhere in the world, you are guaranteed to have a lot of fun. It is an ideal place for a family fun day for teens and brave kids. Each ride at this park has a safari title which reflects its speed and fierceness. If you are not courageous you might be a little afraid to go on the rides. However, once you take your first ride the rest are a breeze. Here are some of the best rides at Busch gardens in Florida.
Montu roller coaster
It has many upside-down inversions and can go up to 60 miles an hour for each ride. Your legs will be suspended on this ride so you will feel like you are flying. This ride has a corkscrew inversion that has some loops and rolls that make it a little terrifying. You need to brace yourself for a fun filled ride as you hang on for dear life on the Montu roller coaster.
Kumba roller coaster
This ride was first launched in 1993 and it has great power and speed. It has one of the highest loops in the USA. The whole ride has 7 different inversions on four thousand feet of track. You can spin around 360 degrees and go at speeds of about 60 miles per hour. You have to be daring to get on this awesome ride because the drop is 135 feet and it is a floorless coaster.
Sheikra roller coaster
It is one of the newest additions at the Busch gardens in Florida. It is a floorless roller coaster that can launch you up to two hundred feet and release you for a 90 degree drop at a speed of seventy miles an hour. It is a vertical ride that should only be taken by persons who are not afraid of heights because your gaze will be fixated on the ground through the entire drop. As you drop down, you get to enjoy some twists and turns and several inversions.
Congo River Rapids
This is an exciting water rafting ride. If you have never been white- rafting before, you will surely enjoy this experience. You will not be paddling, you just have to sit back and hold on as you get tossed up and down some waterfalls. You will come out of this ride soaking wet so you might want bring an extra set of dry clothes. All riders have to be at least 42 inches tall so you can bring your kids on this ride. However, kids less than 10 years old should be accompanied by a responsible adult.
Gwazi roller coaster
This is a wooden roller coaster that gives all riders an authentic fun experience. With speeds of up to 100 miles an hour, you will definitely have a heart stopping ride.
Visit Tampa today and experience some of the best rides at Busch gardens in Florida. You are bound to have an unforgettable experience.